The removal of the notable concrete pillars at Melbourne's iconic Rialto Towers started in earnest in October 2015. It is expected to be completed by the end of the month. As such, we thought now was a good time to write a case study on what work the Advanced Sawing team have done to make the removal a success.
When you embark on a job like this, you have to be across many elements of the total operation. From timings to safety, equipment required and every thing in between, the Advanced Sawing team's involvement had to be professional and comprehensive, as we were the trusted advisor for this element of the Rialto revamp.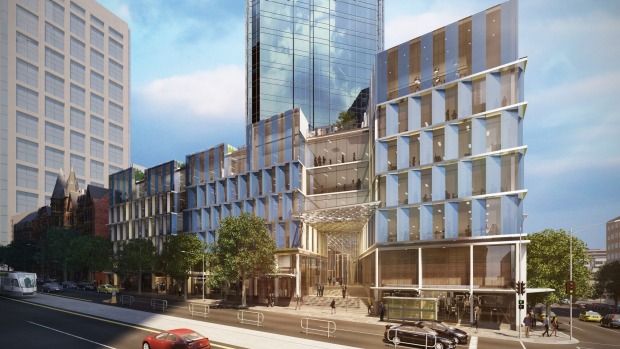 Artists impression – Rialto Five Story Wrap around. Source: Fairfax 2015
The project
To safely and efficiently remove 24 concrete pillars from the Rialto outside foyer. Each pillar was loaded with reinforced steel. They were 24 meters high, by 1.4 square meters wide. The requirement was for each pillar to be concrete cut down to 10 tonne blocks and then safely removed to ground, for safe transport and disposal.
As the concrete pillars were 24 meters high, the removal process involved crane operation to bring the concrete blocks to ground. A large vertical drop also meant all of the Advanced Sawing team were kitted head to toe in safety harnesses and appropriate safety gear.
So how did we remove the concrete?
What goes up must come down! In 1985 the pillars were constructed Rialto 1985 Pillar Construction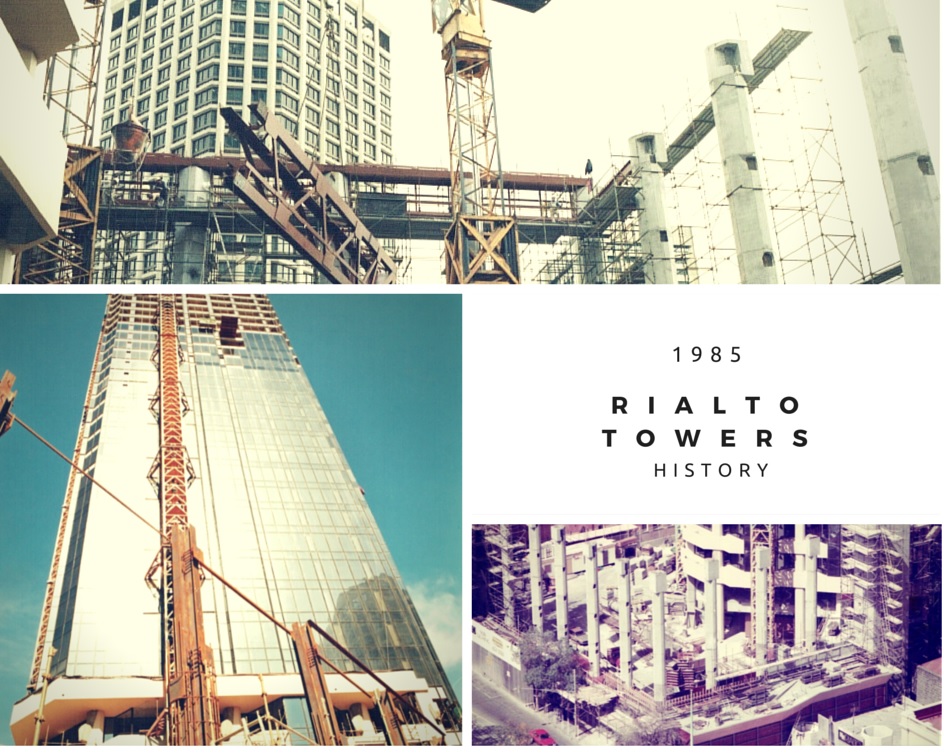 Concrete cutting into the vertical pillars loaded with reinforced steel was a complex process. The Advanced Sawing team for the majority of the work, engaged customised wire sawing machines to break through the steel and the concrete pillars. Wall sawing, hand sawing and wet sawing were also involved at various stages. The height of each pillar also meant we had to crane out the concrete as it was cut. This was particularly complex as the cranes worked very close to the glass facade of the building, and as such meant careful planning in consultation with project leaders Built & Delta Demolitions.
The Advanced Sawing team  removed between 20-25 external planter boxes, ranging from 3-8 tonnes each. Each exterior planter box was 6.5mtrs long by 1.5m wide and  1.8m high.